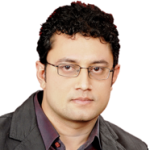 "Invest in your MIND, because there is no aspect of reality beyond the reach of the human MIND".
Biography
Akhilesh Pandya
11 years
Technical Analysis
Positional – Swing / Algo Trader
Indian
Hindi, English (British)
Proprietor (Analyst)
IFS (Institute of Financial Studies), Jaipur
According to Motivationist Mateusz M – Whatever we are today, we want to reach to next level. Someone wants to be an Engineer, Someone wants be a Charter, Someone wants to be a Doctor, Someone wants to be a businessman, & Someone wants to be a successful Trader. But you can't get that level professionally or economically, where you want to be, until you start invest in your mind. Because everything in this world is created twice – first in mind then on the field – My prediction about the markets too in the same way.
From the disciplined Indian Jain family environment, my academic endeavors in the field of mathematics (Engineering) and finance (CFA – Institute of Chartered Financial Analysts of India). During my financial studies, I was always saw myself as a professional Technical Trainer/Trader, who fascinated to find out how one can forecast traded prices movements – well in advance.
Working as an proprietary desk Analyst/Trader as well as a Trainer in last seven years I have been noticed that most of market participants just want to en-cash brighter side of markets means profit, but never ready to deal with loss, uncertainty, or any kind of risk which are the naturally integrated part of markets. They forget the key elements of successful trading system viz risk and psychological issues or even do not have any clear trading objectives. That's why more then 95% participants fails and finally down their motto and called this business as a "SATTA" sounds awful.
On behalf of Technical IQ team I inspire you all to overcome yourself from these resistances as well as :

1. Get trained yourself about the market dynamics like other professional courses.
2. Believe in yourself.
3. Do practice and practice and practice, until you are not fulfilled yours trading objectives.
I wish you will live your dream and share the list of world best traders.